Why the world needs a smarter alternative to wooden pallets
As we all know, pallets – especially wooden pallets – are an essential part of logistics and supply chain the world over. But there's a growing awareness in business that there are many downsides to traditional wooden pallets.
When searching for pallet supplies, wooden pallets, plastic pallets and standard pallet size, companies are increasingly looking for something new. They want a greener, safer, more affordable alternative.
So what's the answer?
We believe the answer is recyclable cardboard pallets (also known as paperboard pallets) for both domestic and export freight. DoubleEco is a leading designer and manufacturer of cardboard pallets and stackable heavy-duty bins. Our cardboard pallets are made using corrugated cardboard and honeycomb cardboard, which have a higher strength-to-weight ratio than timber, yet are incredibly light by comparison.
Our cardboard pallets are made from a mix of sustainable forest and recycled cardboard and are 100% recyclable. When you no longer need them, you just pop them in the recycling bin!
In most cases, the cost of a DoubleEco cardboard pallet is comparable to – or lower than – an export wooden pallet, saving you money.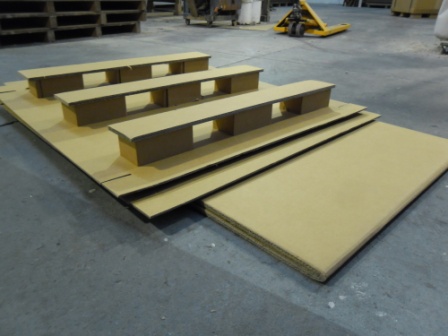 In many instances, our designs are bespoke to provide a specific answer to a client's unique needs. Tell us what you need, and we'll tailor a solution to suit.
Make the move to cardboard pallets
You have a choice when it comes to pallets shipped to or from your premises. We believe it's time to make that choice – it's time to move to cardboard. To find out how you can benefit from using DoubleEco cardboard pallets, contact us today.